Floodplain meadow and washland
Floodplain washland
Large areas of Sussex lowlands are naturally liable to seasonal flooding from rivers or estuaries. Naturally fertilised from the silts which are deposited during flooding, many of these lowland floodplains were the first to be cleared of trees and reclaimed for food production. Many of them have also had flood protection placed around them in the form of embankments. This means that the majority of our floodplains now no longer flood naturally and are host to cultivated or semi-natural grasslands.

There are still some areas of Sussex where more naturalised 'washland' is present. These riparian grasslands have a more natural hydrological interaction between the river and the land, are less intensively managed, and more structurally diverse and species rich. They also tend to have an element of fen or open water in them, and sometimes remnant river and saltmarsh creeks are still evident. Only very small areas of these more natural and ancient washlands still remain but they host important species rich fen and water meadows. They also play an important role in Natural Flood Management.
Coastal and Floodplain Grazing Marsh

The large majority of seasonally flooded grasslands in Sussex are called Coastal and Floodplain Grazing Marshes (CFPGM). Of the remaining lowland wetland habitats in Sussex, grazing marshes are some of the most extensive. Estimates put the area of CFPGM in Sussex at nearly 15,000 ha. Grazing marsh is occasionally flooded pasture or meadow, with a network of drainage ditches which maintain standing water containing fresh or brackish water. The drainage channels are usually man-made and were originally installed to drain marshland and low lying fields for farming. In the past this would have included estuarine and saltmarsh grazing pastures. The ditch network creates a landscape of fields with straight watercourses which act as field boundaries and/or as drinking points for stock. The ditch network also tends to contain the majority of the ecological diversity of CFPGM as a repository of the diversity of the original marshland or washland.
In principle, CFPGM can support a variety of wet and dry habitats, but as a farmed landscape, often only a small proportion of the grassland and wetland elements of CFPGM are semi-natural and support a high diversity and structure of native species. It is estimated less than 20% of Sussex CFPGM is of high quality for wildlife.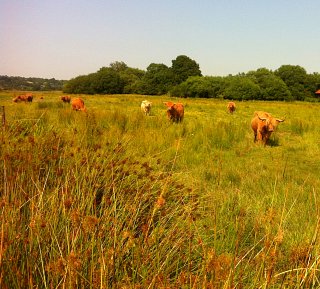 Almost all grazing marshes are grazed or cut for hay or silage. This management tends to limit the succession of CFPGM to other wetland habitats such as fen. The majority of Sussex CFPGM systems are man-made landscapes which have been highly managed over centuries. These are floodplain lands which historically would have supported significant areas of marshland, saltmarsh, reedbed and fen, and which have been ditched, drained, embanked, water controlled and heavily farmed.
More recently, floodplain grasslands such as CFPGM are being considered in terms of the opportunities they provide to restore the unique features of their associated ecology, topography and hydrology, rather than purely for their managed wetland features. Enabling some of these areas to recover and to be restored to the more naturalised floodplain and marshland habitats that they once were can provide significant wildlife benefits. However, further survey is required of most floodplain washlands.
Species you might see in Sussex Floodplain Grasslands
Floodplain grasslands and Grazing marshes are particularly important for breeding waders such as snipe, lapwing, curlew and internationally important populations of wintering wildfowl including Bewick swans. Agriculturally un-improved grazing marshes may be rich in flowering plants, and rarer species such as cut grass (Leersia oryzoides) and divided sedge (Carex divisa). Ditches and more natural wetland features often support a wide variety of emergent and submerged aquatic plants, and a rich invertebrate interest including dragonflies, fen raft spiders (Dolomedes plantarius) and water beetles. In Sussex some CFPGM systems also support nationally important populations of the lesser whirlpool ramshorn snail (Anisus vorticulus).